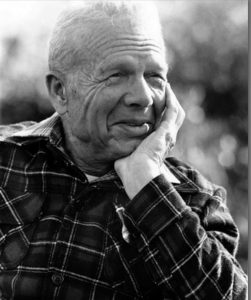 This website is in memory of my father, Dwight Bolinger, a professor of Romance Languages and Linguistics.  Born in Topeka, Kansas, on August 18, 1907, he died on February 23, 1992 in Palo Alto, California.  Following graduation from high school, his first teaching job was in a one-room rural country school, the Lindloff School, near Stover, Missouri.  He completed his teaching career as a Professor at Harvard University, from 1963-1973, then as a Visiting Emeritus Professor of Linguistics at Stanford University, 1978-1992.  He was a prolific writer, authoring 17 books and some 333 articles.  For his complete bibliography, click here.  For a full account of his teaching career, click here.
The origins of this website are as follows.  Before he died, my father asked me to update his bibliography.  By 1997 that was completed, except for a few additions that came to light later.  It was then that Professor John Lawler of the University of Michigan, Ann Arbor, suggested that it be posted on the Internet and offered to do the coding.  I am grateful to him for making that possible.  I also thank my nephew, Bruce McClure of Exeter, England, for helping me keep the original website up-to-date in the twenty years since then.  My thanks also to my sister, Ann McClure, of Aberdeen, Scotland for sharing photos, documents, and memories and for just being Ann.
With WordPress making it possible to create and maintain websites with comparative ease, I decided to have the contents of the original website transferred into a new website with additional content, including (1) the sound file of a talk that he gave to the Berkeley Linguistics Society in 1987, (2) a collection of family and university photographs tracing his career along with a narrative of his experiences, (3) some of his obituaries, and (4) his autobiographical "Three Days as a Vagrant in the Panhandle."  The transfer was completed and this new website went live on August 30, 2017.  Additional material will be added periodically.  A separate website on the Bolinger family history was started on November 20, 2017 and can be accessed by going to http://bolingerfamilyhistory.net/.
For a table of contents of this website, see below.  The main pages are in bold face while the subpages are bulleted and underlined.   You can also use the up and down arrows (pointers) in the left column to navigate.  Use the down arrow to open the list of subpages and the up arrow to close it.  Note that some pages are still under construction.
To listen to Bruce's interviews with Dwight and Dwight playing some of his music, click the following link.  There are three sound files of interviews and notes will appear under each sound file regarding its contents. https://www.dwightbolinger.net/dwights-memories-sound-files/.  There is one sound file containing two of his piano pieces played by him.
It is interesting to see where the traffic to this website is coming from.  In the first four-and-a-half months since this website was started, it received 742 hits, with the U.S. accounting for 336 (45%), China 53 (7%), U.K. 45 (6%), South Korea 35 (5%), and Japan 33 (4%).  Additional hits were from Germany (17), Indonesia (15), Brazil (13), France (10), Netherlands (10), Russia (10), and Spain (10).  Add to the above figures another 115 hits from  42 other countries.
For those who wish to contact me, my email address is bcbolinger at comcast.net.
—Bruce Bolinger, August, 2017
TABLE OF CONTENTS
Education and Professional Experience
Biographical and Autobiographical Materials
"Power to the Utterance" – Berkeley Linguistic Society Speech, 1987
Photographic History of Dwight Bolinger with Family, Friends, and Colleagues