While Ann was an undergraduate at Tufts University majoring in German, she took advantage of the opportunity to spend her junior year studying at the University of Tubingen, one of Germany's oldest and most famous universities.  It was there in 1968 when she met a young Scotsman, J. Derrick McClure.  He had already completed his M.A. in English Language and Literature at Glasgow University two years before and was working toward an M.Litt. in Linguistics, specifically in Phonetics, at Edinburgh University, which he would complete two years later.
Derrick was a Lektor in Englische Phonetik at Tubingen when he and Ann met.  It was at a St. Nicholas Night party of the Anglistische Seminar, on 5 December 1968.  As Derrick described her, she was a "stunning golden-haired American girl."  Looking back on that time, Ann said she looked more German than the Germans.
One thing let to another and after Ann graduated from Tufts, she and Derrick were married on 4 July 1970 in the Trinity Church (now called St. Columba's Church) in Ayr, Scotland, where Derrick had grown up. Their first two years of marriage were spent in Ottawa, Canada where Derrick was teaching at Ottawa University.  Looking for a permanent position, preferably in Scotland, Derrick sent enquiries to various Scottish universities.  It was the University of Aberdeen, founded in 1495 as Scotland's third oldest university, that responded with an invitation to apply for a planned lectureship in the English Department for a specialist in Scots.  Derrick began teaching at Aberdeen in September 1972.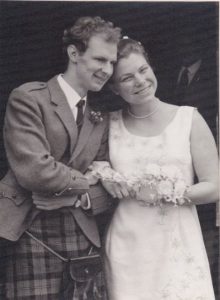 There soon followed the birth of three sons, Bruce, Ewan, and Alan.
The birth of their first son, Bruce, was commemorated in this cartoon drawn by Derrick's brother, Douglas.  Dwight proudly displayed it on the wall over his desk in his home in Palo Alto.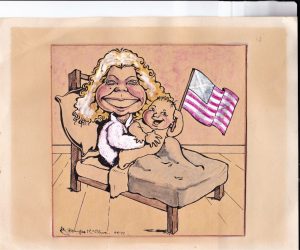 Ann's father, Dwight, was very moved to be able to hold his grandson Alan.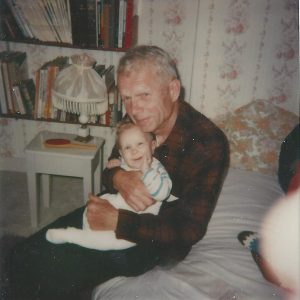 Dwight and Derrick shared common interests in language even if their areas of specializations were different and they enjoyed each other's company.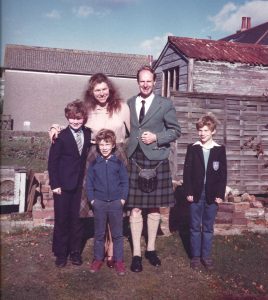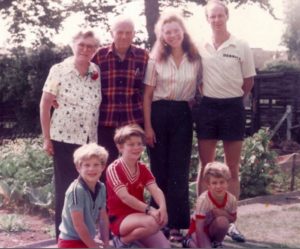 With Palo Alto, California and Aberdeen, Scotland separated by over 5,000 miles, family visits are not as often as the family would wish.